She is a natural magician! Living outside the city helps her to create her world without the stone jungle. Therefore, even a flower, dawn, or a rural landscape will be remembered at first glance if Tanbelia painted them. The girl works in the style of mosaic impressionism, and it catches everything that surrounds us and transforms the ordinary into the supernatural. She conveys sincere bright images with wavy lines, which have become her author technique.
In addition, she creates unique art objects. For example, the «Coral Reef» (pictured above), which she saw with her own eyes during her free diving experience. She often uses secondary materials, which, unfortunately, pollute the environment. In the end, magic happens — recycled paper, plastic, and other waste acquires creative value.
Artist Statement
Some consider her strange. It's okay – not everyone will understand the cosmos that lives inside a genius. The proof of this is the popularity of Tanbelia not only in Ukraine but also abroad. She dreamed of conveying positive energy through paintings and sculptures — and it happened!
«My art is about encouraging people to sustainable development and protecting nature. We live in the Anthropocene, but this period should not be an ecological catastrophe. On the contrary, we can try to save land, air, and water from pollution, debris, and other human activities»

Tanbelia about her creativity
«The Sunlight»
Maybe the sun's rays will disappear soon, and it will sink behind the mountains of garbage and get lost among the environmental disasters that human negligence will lead to. 21st century. Fewer resources, more needs…
With its futuristic art object «Sunlight,» made of copper, PVC, and stainless steel, Tanbelia shows it's time to switch to ecological energy. The work uses a solar battery, so the light source is a visual appeal to change established habits.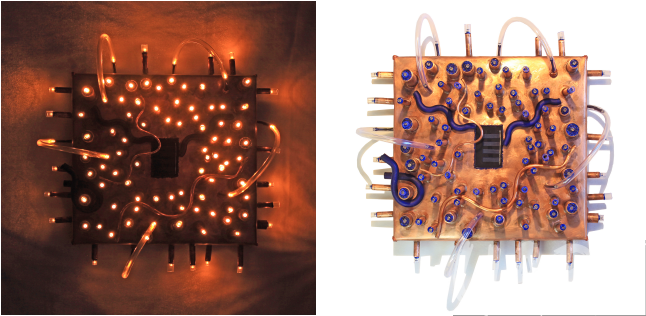 "Futuristic ecology sculpture with light that takes energy from the sun. The core idea of this project is to encourage people to use infinite and environmentally friendly natural energy. I want to show clearly and eloquently that we have a critical problem with the planet's resources. Mankind needs to change its attitudes and habits on many levels to avoid the impending global ecological collapse."

Tanbelia about her work "The sunlight"
Tanbelia says she does not compare herself to anyone and is looking for her ideas. Constantly experiments with sculptures delve into fantasy and convey thoughts through images. This is her message to society — it is worth saving the Earth and preserving nature so that it keeps us.