It starts in April 2022 at the One Art Space Gallery in New York. The art show "Stand with Ukraine" presented the works of authors who demonstrated their attitude to the situation in Ukraine and voiced their own pain and thoughts on the canvas..
In our first printed and digital catalog "STAND WITH UKRAINE 2022" we brought together young Ukrainian artists and photographers who expressed their views on what happened in Ukraine at the end of winter 2022. Peace and war, life and death, beauty and injury, future and past, faith and hope – all these topics have been touched by contemporary authors in their works.
The art catalog 2022
Based on the motives of the exhibition and according to our expanding portfolio, we prepared an art catalog in PDF format and print version. Total number of works by Ukrainian authors included in the catalog is 87 pieces.
Art can't stop a bullet, but it can stop a bullet from being fired.

William Kelly
Everyone's ability to be human is more important than any nationality. The concepts of love, happiness, support, friendship, hope at the level of every soul and heart sound equally, and we are one with this impulse, all the people of the world..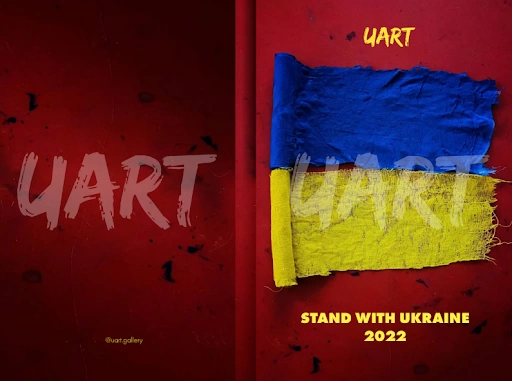 Where to get the catalog?
You can view and download our catalog for free by clicking the link. https://uart.gallery/wp-content/uploads/2022/06/UART-catalog1_med_preview.pdf
We invite gallery owners, art curators, collectors, patrons, and anyone who shares common humanistic goals in the sense of art and speaks to us in the same language of values ​​to cooperate with UART.